For quite some time now I wanted to shoot portraits, and finally I found a model to shoot!
Since photography is my hobby I don't have a studio, so I had to improvise. I converted my living room into a studio for a day, and shot my model on gray muslin background. I bet everybody heard about these famous muslin backgrounds. But what the guys who sell them to you don't mention is that you receive the muslin in a really crumpled state, and if it is 3 by 6 meters long, there is no way you can iron it by yourself. But I had no other choice than to use what I had.
My solution to this problem was in post processing – I had to "cut" the model from the original background and paste it onto another background in Photoshop. You can see before and after images in the example below.
Click on the photos to enlarge.
In order create precise selection of the model in Photoshop I used the pen tool. Many people don't use this tool because they find it confusing just like I did before I saw this tutorial:
After getting used to the Pen tool, I promise you that you won't ever go back to lasso or any other selection tool when you need to do a complex selection. After I selected the model using pen tool, I used the option "Refine Edge" to refine the edge of the selection in the areas with model's hair. It is really important to make the hair look natural on the new background. My last step in the selection process was feathering the whole selection by 2 pixels to add a more seamless transition from the model to background.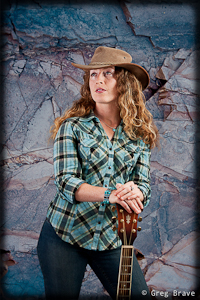 Click on the photo to enlarge.
If you don't want to cut and paste your model, and still use your crumpled muslin background, here is how you can do that:
If you have enough space, put your model far from the background, and use wide aperture – this will make the background go out of focus and its wrinkles won't be visible. In addition to that, you can setup your lighting so that no significant light will fall on the background making it dark (you can use gobos for that).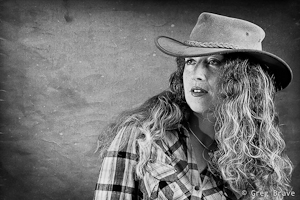 Click on the photo to enlarge.
In all the photos you see here I used pretty much the same lighting setup, only slightly varying the position of my strobes and their strength. Here is my basic lighting setup diagram: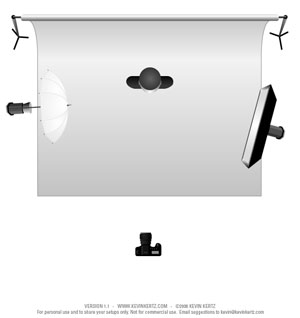 Click on the photo to enlarge.
You probably wonder where I got backgrounds that I use on these photos, and it is no secret. You must have heard about OnOne software. I used one of their products named PhotoFrame. This product can work as a standalone application or as a plug-in for Photoshop and Lightroom. The primary aim of this product is to supply the user with lots of photo-frame templates, so you can choose and add nice framing to your images, but it also has a great collection of backgrounds. I downloaded their trial version here. In the image below you can also see the frame that I created with this plug-in.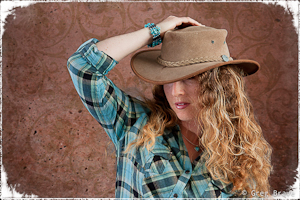 Click on the photo to enlarge.
But it is the only frame that I used from PhotoFrame. Other "frames" that you can see in the photos here, are simply a creative use of vignetting feature in Lightroom, which is pretty easy to achieve – you simply reduce the roundness of the vignette somewhere around -90 to -100, set it's midpoint between 0 and 15, and the amount slider is up to you.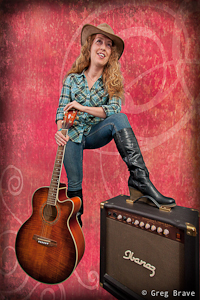 Click on the photo to enlarge.
While most important aspects of portrait photography lie in the artistic sphere rather than technical, still in order to get acceptable  results, all the technical details must be carried out correctly, and this is why I dedicated this article to them. Nevertheless after all the technical aspects are set and done, I forget about them and concentrate on the model and on my artistic perceptions of what I want to achieve from the shoot.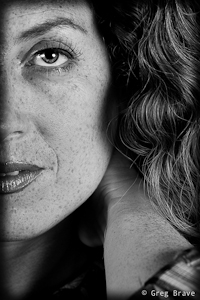 Click on the photo to enlarge.
If you have any questions regarding the issues brought up in this post, feel free to leave them in the comments below, and as always any other comments are highly appreciated.
Cheers,
Greg.