I just realized that even though I love photographing flowers, I haven't shown much of them here. But hey, don't worry! I'm here to fix that 🙂
A couple weeks ago me and Ira went hiking in the Bunyip State Park here in Victoria. To be honest there wasn't much to photograph, at least where we were hiking, as it was mostly plain and boring eucalyptus forest.
Click on the photo to enlarge.
But when there are no breathtaking views around me, I take out my macro lens and start looking for the little things. And there were quite a few beautiful flowers there. Macro photography in the nature has its own tricks. Aside from artistic aspects such as choosing the subject, angle, composition etc., there are technical issues that should be thought of.
Click on the photo to enlarge.
When shooting Macro, even the slightest movement of your subject can result in loss of focus. So having that in mind I would suggest shooting at shutter speeds above 1/100 sec. It is more difficult with choosing apertures because that would be part of an artistic choice. Generally speaking, the wider your aperture, the faster shutter speed needs to be.
Now, you're probably going to ask me – what about tripod? Well tripod can be a huge help, but it is not a "complete solution" to all your problems, because when shooting in the nature you have wind, and even if your camera is dead still on your sturdy tripod, one blow from the wind and your flower moves out of the focus area.
Click on the photo to enlarge.
Personally, I find using tripod in macro shots too constraining. Tripod gets in my way when I circle around my subjects looking for a nice spot to shoot from, especially when there are fast moving clouds in the sky and the lighting conditions change constantly.
Of course there are conditions in which using tripod would be very beneficial. For example picture this: Early morning, everything stands still. The insects are sleeping inside flowers covered with droplets of dew. The morning light is beautiful, and a little dim. This is the perfect time to use tripod – you would have enough time to put the camera in place, choose the composition and shoot away.
Click on the photo to enlarge.
Here, have a look at this plant, at first I thought it was a giant caterpillar 🙂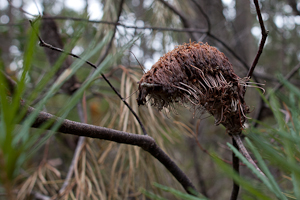 Click on the photo to enlarge.
When I had enough of shooting macro, I started looking for a "bigger" subjects to put in front of my lens. I liked the moss on this huge stone. By the way, it is still a mystery to me how this huge stone ended up in the forest… it probably got there before these trees grew up.
I think I've already mentioned it in one of my previous posts – it is very difficult to take interesting pictures of forests, and if you just see a nice section of forest, point your camera at it and shoot, chances are that the photo won't be of any artistic value.
In order to make your photo of the forest interesting, you must find a point of interest, something for the eye of the viewer to rest upon.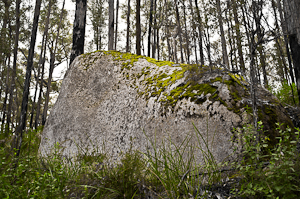 Click on the photo to enlarge.
And finally, here is one of my favorite photos from that hike. Ira serves as a good reference point to show the scale of this place.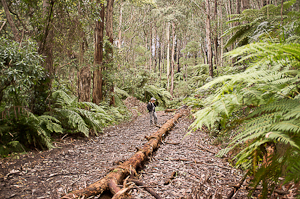 Click on the photo to enlarge.
What are your favorite macro tips? I am always willing to learn new stuff!