Nobody knows what's inside artist's mind, so in order to express themselves and to share their visions with the world artists write music, paint, sculpt and use other means of expression. Mine is photography. Sometimes I have these crazy pictures in my mind, and I want to somehow realize them. Since I can't draw very well, I am trying to do that by other means, currently it is compositing in Photoshop.
Recently an idea popped into my mind – a crazy magician who wanted to help all the thirsty people in the desert and he wanted to use his magic to create a lake in the desert, but something didn't work right and he created a huge sink… so he sits on one of the knobs and feels blue 🙂
Here's what came out of this idea: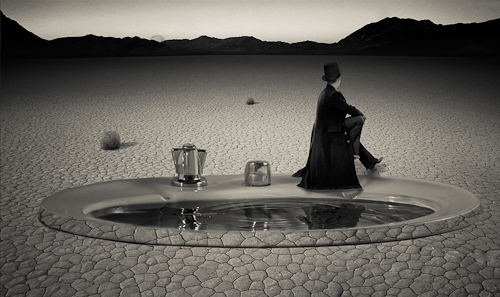 Click on the photo to enlarge.
It is a composite of five photos – the background, which is the desert, the magician, the sink, the moon (yes! it is the moon 🙂 ), and the tumbleweeds. I did the composite in black and white because it is easier to blend all the parts together.
And what crazy ideas do you have ?