Sometimes I see a photograph, and I wonder how it was done, what tricks or special equipment (if at all) did the photographer use to achieve the result? In most cases there is  no way of asking him, and I have to guess and speculate on how it was done.
A few days ago I did a few flower macro shots, and posted one of them in a couple of forums. In the responses I've received I saw some questions as to how I did it, so I decided to write a post about it.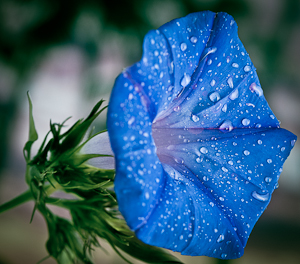 I used Canon 100 mm f2.8 Macro lens, a light tent, and two flashes – the main one from the right side, and another flash from the left side. I set the second flash to be much weaker, so it would make the back side of the flower just a little brighter.
I didn't want big depth of field so I set my aperture to f5. On the contrary, I wanted to be able to control what exactly will be in focus.
The shutter speed was 1/200 of a second, but it is not important in this case because I didn't use ambient light – only strobes.
Since I had total control of my lighting, and I could set it to be as bright as I wanted to, I used ISO of 100, the lowest ISO on my Canon 40D. As you probably know, the lower your ISO setting, the less noise you'll get in your photo.
Of course I used tripod. This is an important point. You might think that shooting at speed of 1/200sec doesn't require the use of tripod, and under certain circumstances you might be right. For example when using wide angle lens with fairly closed aperture. But in my case I used telephoto lens (100mm) with f5, which means that even the slightest movement will shift the focus from where I want it to be to another random location. So, the conclusion is that in macro shots tripod is almost always an essential piece of equipment.
As you can see on the shot I sprayed the flower with water. Water drops are a very nice touch to many natural subjects, not only flowers. Sometimes photographers photograph the water drops on their subject in such a way that a reflection of something would be visible in the drops, and it makes for great images. In my case I wanted to achieve the exact opposite – I didn't want any reflections in the water drops in order to focus the attention of the viewer on the flower, and to achieve that I photographed my flower in a white light tent.
And finally, the background. In the shot above and in one of additional examples from that photo-shoot below you will see that my background wasn't plain white. But what was it? It is easy – I used one of my calendars with colorful photos as the background. When shooting macro, DOF is so tiny that a photograph placed 30 cm behind the subject becomes totally indistinguishable collection of colorful splashes, which makes for a nice background.
Below you can see a few more examples from that shoot
I hope you learned something from my experience.
As always, feel free to share your thoughts and suggestions in the comments section.
Cheers,
Greg.
P.S. For those of you who wonder, the flower's name is Morning Glory