At first this thought might sound crazy to you as it sure sounded to me, but then I thought that I could at least try to do that. Since my iPhone is always with me and my camera isn't (due to circumstances beyond my control of course! ) it had already been more than a few occasions on which I really wanted to make a panoramic image but couldn't.
So I decided to see if there are any apps for iPhone that can help me create panoramas. During my research I found several applications that  were created for this purpose. But after trying to use them I found out that most applications don't do a good enough job – either the whole process was too time-consuming and difficult or the result wasn't satisfying. And then I found application named AutoStitch.
First of all I want to say that I am not affiliated with makers of this application in anyway, and I don't receive any benefits if you decide to buy this application after reading this article. I am writing this only because I loved this app and want more people to enjoy it.
AutoStitch really did the job so well that I was truly amazed at the results! And the process is also very simple. All you need to do is to take photos for panorama with your usual iPhone camera application. Just make sure that each photo overlaps with the next one at about 30 percent. Then you open the AutoStitch application, simply choose the photos that you want to create panorama from, and let the application to do all the work.
After AutoStitch finished, you will see the final image and also will be able to crop it as you wish. Then you can save it to your photos. There are several great things about AutoStitch that I liked very much:
1. The panorama creation process is pretty fast and simple.
2. The result is very impressive – photos are stitched perfectly together, and if you made each shot correctly, the final result is just great!
3. The final panorama can be saved at the maximal resolution of the iPhone, what I mean is take for example 5 photos with your iPhone, stitch them together in AutoStitch, and the final resolution that you'll get will be 5 times bigger than single photo resolution.
4.You don't have to use tripod or to be extreeemely careful! Just try to maintain the initial angle of shooting, and make sure that your photos overlap with each other. AutoStitch will do the rest.
I'd like to show you two of the panoramas that I created using AutoStitch. Please note that I reduced the resolution of these images in order to fit them here.
High Tech District in Tel Aviv. Photograph by Greg Brave. Click on the photo to enlarge.

Alonei Itzhak Nature Reserve. Photograph by Greg Brave. Click on the photo to enlarge.
And now here is what welcome screen of AutoStitch looks like, when you open the app in the iPhone: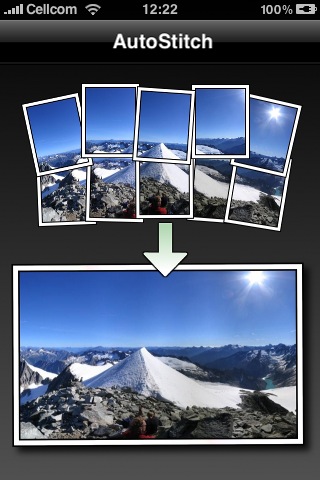 In conclusion – AutoStitch is a great application for creating panoramas in your iPhone. It is cheap, simple to use, and delivers great results.
If this article was helpful to you, or you have additional thoughts on creating panoramic photos in iPhone, you are welcome to leave comments to this article or drop me an email to greg at photopathway dot com.