As I promised, in the next posts I will write about my photographic experience in Nepal. To get everyone up to date – recently I took a rather long vacation of almost one month and went with my life partner Ira and one good friend to a trekking trip in Nepal. As always my camera was with me, but since we didn't hire a porter (or a guide) I couldn't take just any photo equipment that I wanted.
I was facing a hard decision – which lenses can I take with me and not add too much weight to my already heavy backpack? And here's the list of the photo equipment that I took:
Canon 40D body. This wasn't really a choice since this is the my only DSLR.
Canon EF-S 10-22mm
Canon EF 100mm f2.8 macro
Sigma 28mm f1.8
4 Spare batteries, 2 circular polarizers (different diameters), lightweight SLIK tripod
Let me explain my choice of lenses. Even though I have two Canon L-series lenses (70-200 f4 and 24-70 f2.8) I didn't take them with me for one simple reason – they weigh too much. Instead I decided to go mostly with prime lenses, which are much smaller and lighter but still produce very good quality photographs even though they are not from L-series. Canon 100mm f2.8 macro lens is known for its superb quality, and after shooting with Sigma 28mm f1.8 for a while I saw that it is also a very good lens though it has some minor issues with lens flare. In addition I took the Canon EF-S 10-22mm, which is known for its good quality-to-price ratio. In this case I didn't have much of a choice since it is the only wide angle lens I have, and you can't go trekking in Himalayas without a wide angle lens, can you?
The only thing I could've taken less of were the batteries. I found out that for a nine day trek I only need two batteries. But I must say that I didn't use the live view, which is known for its ability to drain power quickly.
Our first trek was the famous Annapurna Base Camp (ABC) trek. In order to get to its beginning, we had to fly from Kathmandu to Pokhara (second largest city in Nepal) and then take taxi (~1h drive) to Phedi. Phedi is a small village, in which ABC trek starts with a long climb via stone stairs.
Before setting off to the ABC trek we had a rest day in Pokhara. One of the main attractions of this town is Pokhara Lake. For 300 Nepalese rupees you can take one of the boats below for a 1-hour sail. Add 50 more rupees and you'll also get a boats-man.
1/60sec at f5.6, 28mm | Click on the photo to enlarge.
The next photo happened almost by accident. It was raining all morning that day, and we got completely wet, walking carefully not to slip on wet rocks. The heavy backpacks made it that much harder to keep balance, and we seldom shifted our eyes from the ground. It was a hard climb, and while we were getting near its ending, the skies suddenly cleared, and then we reached this house. I saw the mountain and the dog, which was laying calmly. My hand instinctively reached for the camera, suddenly a man appeared from the house adding final touch to this photo.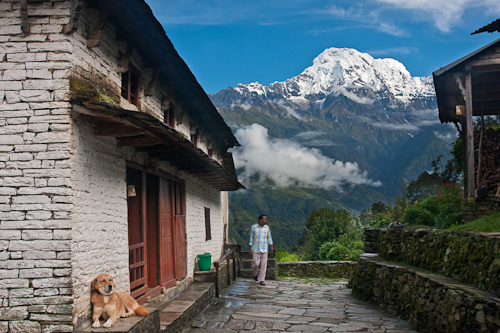 1/200sec at f9, 28mm | Click on the photo to enlarge.
On our ABC trek, as a general rule the weather was at its best early in the morning, 5 – 6am, sometimes until 8, then gradually clouds came in and covered everything. And then again weather would improve at about 4 – 5pm. Of course it was only usually like that, and different variations were possible, but our most certain bet would be to get up as early as we could. If we wanted to have clear view of the peaks that is. And as you can imagine – I really, and I mean REALLY wanted to see the peaks!
The next shot was taken early in the morning and the mountain peak that you can see on the right called "Fish Tail". Locals call it Machapuchare, and revere it as very sacred to the god Shiva. This makes Fish Tail forbidden for climbing.
Click on the photo to enlarge.
Unfortunately, good colorful sunsets were rare because at sunset time the skies were usually covered with clouds, and the next photo is one of the very few I made during sunset time. But that particular sunset was marvelous! The orange colors changed hues constantly, and I made a dozen photos trying to capture them. I only wish there would be slightly less clouds so that more of the snowed mountains were visible.
Click on the photo to enlarge.
While two photos above were taken looking up at the mountain peaks, they are not the only attraction in Himalayas. When you are at high altitude, looking down can take your breath away as easily as looking up. The next photo was taken in the morning looking down on the "small" hills of Annapurna National Park. Some of these hills are higher than the highest  mountains in Europe (let alone Australia), but they still look tiny in this vast landscape.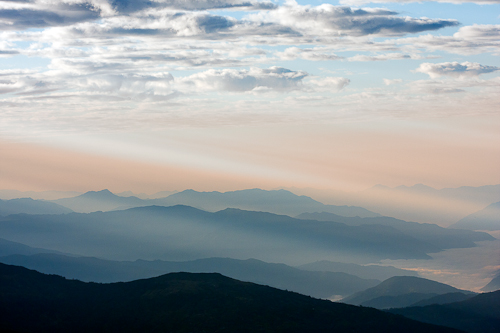 Click on the photo to enlarge.
This is it for my first post in the Nepali series, and I hope you enjoyed it.
Let me know what you think, and what photographs and information would you like to see in my next posts on Nepal. This is what the comments are for!