One of the compositional tools that photographers use to draw the eye of the viewer into the photograph is lines, which lead the viewer through the photograph. And by lines I don't mean pencil drawn lines or anything like that. These "lines" can be represented by various contours of elements in the image.
Here is an example of leading lines in the image: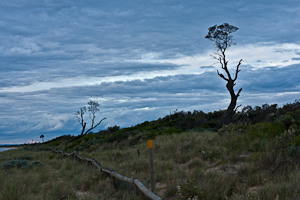 Click on the photo to enlarge.
As you can see there are several such lines in this photo. One of them is the line of the wooden fence. The "line" can be broken and not straight, as is the case here, but nevertheless it still does the job. Another line is formed by tops of the bush, and finally the third imaginary line appears when your eye connects between the three tree tops.
All three lines converge at the lower left part of the photograph leading the eye from right to left. However there is one more line, which "breaks" this pattern. It is the stripe of bright sky protruding through the clouds. While other lines are relatively easy to control because they are stationary , this line could be caught only during a short period.
Lines can be a very strong compositional element when used wisely and in place, for example you can use such lines leading the viewer's eye to the main subject of your photograph.
What are your examples of leading lines? You can share your photos in the comment section to this post.
Till the next time, take care!
Cheers,
Greg.