Greetings, I am back from my vacation!
Big thanks to everybody who didn't loose faith in this blog 🙂
I had three unforgettable weeks of trekking in Nepal, saw and photographed unbelievably beautiful mountains, and different cultures. More about that in my future posts, in which I will share my photographic experiences and, of course, photographs from my trip. Few of these photos you can already see on my Facebook page:
Now I would like to go back to the article that I started writing before my vacation, but didn't have time to finish.
There are different ways to tell a story with a photograph. Photojournalism is one of the most common. There are also various kinds of creative edits. For example, Katerina Lomonosov creates great story-telling works of art, which stir the viewer's imagination. Landscape photography in addition to showing the beauty of nature can also sometimes tell a story of the photographed place.  Thinking of it, any kind of photography tells a certain story, and this fact is what makes the viewer to look at a good photograph for more than a brief moment.
I don't remember where I saw this quote: "If you want to tell whether a photograph is good or not, hang it on your office/home wall. If after a week (or so) you'll still enjoy looking at it, then most of the chances that it possesses artistic value"
A few days before my vacation I was buying food in our local supermarket, and I've got the idea to photograph ordinary people that I saw there and to try and tell a story of "people in the supermarket"… you know – to see extraordinary in the ordinary. I used my iPhone to photograph these people because it was be the most discrete way to do it. I wanted to capture them in their most natural environment, doing everyday chores (in this case – shopping).
So when I came home I had a collection of photographs, which I needed to somehow combine into a single photo. After playing with the idea for a while I decided on a collage, and here's the final result: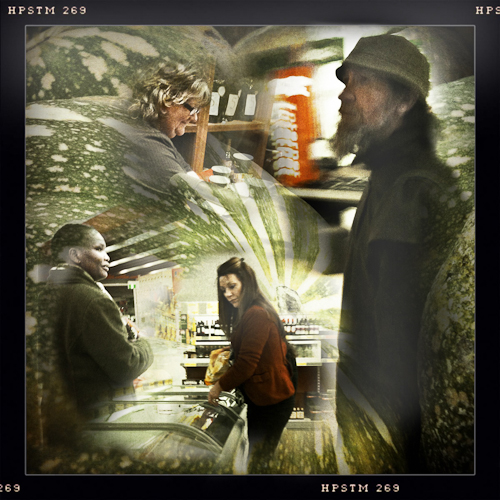 Click on the photo to enlarge.
To create this collage I loaded all the photos as layers into a single Photoshop file, and then used layer masks. The most difficult thing was to choose photos for the collage, and then to arrange them. Another problem was the choice of background.
I hope I succeeded to tell a story with this image, but I will let you be the judge of that.
As always, your comments are highly appreciated!