Any photographer who lived in Israel, amateur or professional, must have visited for at least one photographic session the old Jaffa town. It is known for its beautiful alleys, old architecture, and historic heritage. The downsize of this is that it is difficult to create unique images of Jaffa since so many have photographed it before. But still I decided to give it a try.
One early morning Ira and I went to the Old Jaffa. Ira to take a walk there and me to try and create unique images of Jaffa. I would like to share some of those here.
In the photo below you can see the Sea Mosque. It is a small mosque (closed to visitors) standing near the Jaffa's sea promenade.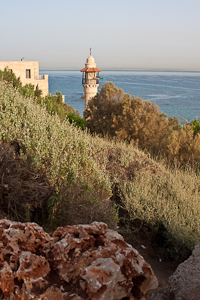 Click on the photo to enlarge.
This is Wishing Bridge. On the bridge's rails there are Zodiac signs. Ancient legend has it that if you stand on the bridge, touch your Zodiac sign, look at the sea, and make a wish, it will come true. I was standing near this bridge for some time thinking how I could photograph it differently, because I've seen so many photographs of this place. And then this little dog showed up, and just before stepping on to the bridge turned back to it's owner for permission. I snapped the photo right that moment, and it looks like the dog invites the viewer to the bridge.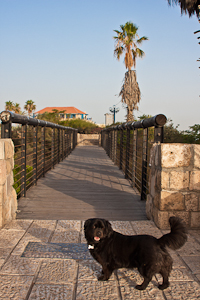 Click on the photo to enlarge.
In the next photo you can see The Faith Statue. Even though I shot several photos from much closer distance, I like this photo the most, because in my opinion the palm trees add a nice touch to the overall mood of the image.
Click on the photo to enlarge.
This one is just a closeup, but I like it. In order to create something like this you need to have the fluffs 🙂 which are in focus to be much closer to you than the rest of them. Otherwise the background won't be blurry enough.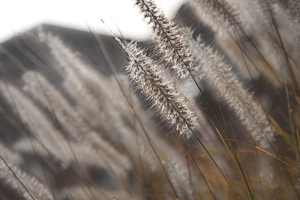 Click on the photo to enlarge.
Now this is very famous Suspended Orange Tree of Jaffa. When we came there the sun was getting pretty high and I was looking for ways to use it in my photograph. Instead of shooting with the sun behind me, I decided to try and include the sun in the frame. Since I shot RAW I could later brighten the shadowed foreground (I did it in Lightroom by increasing the fill light). After shooting the photo on the left, I started thinking of ways to give this composition a more surreal look. Suspended tree itself is somewhat surreal, and so I wanted to enhance it. While I was wandering around the tree and thinking, I suddenly saw Ira standing behind it… actually I saw only her legs and it looked interesting to me and I photographed her standing behind the suspended tree so it looked like the tree had legs to stand on the ground. As I was getting ready to wrap it up and go somewhere else, this woman showed up from one of the alleys, and Ira was still standing behind the tree. I quickly snapped another shot and ended up liking it the most.
Click on the photo to enlarge.
Many artists live in old Jaffa. In the photos below you can see a typical alley and an entrance to artist's home. The paintings that are hanged on the walls help create the unique Jaffa atmosphere of art, ancient age, beauty, and relaxation.
Click on the photo to enlarge.
But not only artists live in old Jaffa town. There are also many half ruined buildings occupied by homeless people, and one can strongly feel the presence of poverty. I saw this man sitting on the plastic chair right there on one of the Jaffa's streets. He had such a wise-proud look that I couldn't resist and snapped a photo of him.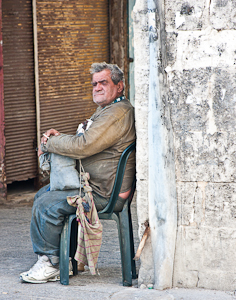 Click on the photo to enlarge.
That concludes my photographic reportage of Old Jaffa town in Israel.
As always comments are highly appreciated, and
Remember, you only have to enter your name to leave a comment!
Greg.