As I promised in the article about my trip to Switzerland, I am writing a detailed review on a photo backpack, which I took with me on that trip. It is a "Compurover" from Lowepro. When I was looking for a photo backpack on the net, I had trouble to find good reviews made by people who were actually using the product rather than just going over its features. I also had trouble finding detailed photographs of products. On the manufacturer's sites there is usually only one or two photos of each product, which is absolutely wasn't enough for me to get an idea about them.
So I had to actually go to various shops and check out different backpacks and spend quite a lot of time on it. Now, after finding the product that was the closest match to my demands, and using it for a while I decided to write a detailed review of this photo backpack including my own insights and conclusions based on real experience and heavy duty use.
I will start with what were my demands from a photo backpack.
We both – me and my life partner Ira like to hike. We love nature and try to spend as much time as we can outdoors. And obviously I love photography so taking my photo gear with me is never a question. The only question is what gear I am going to take with me and how I will be carrying it. Along these lines my demands from a photo backpack were the following:
1. It has to have enough padded space for all the photo gear I am taking with me outdoors.
2. It has to have an additional compartment for other hiking related gear (clothes, food, etc.).
3. It has to have a good carrying system, to sit comfortably on my back and waist, and wisely distribute the weight across my body.
4. It has to have a tripod holder.
5. It has to have a place for hydration system.
6. It has to have small, and preferably external pockets for all the little things (filters, cleaning cloth etc.).
7. It has to have a rain cover (very important).
Pretty big list huh? I worked hard to find a bag to fulfill all this, and I can't say that I found a perfect backpack, but I came close.
The biggest problem that I encountered was that most of the professional photo backpacks don't have enough room for other than photo gear. So I found many great backpacks, with good carrying system, but with no place for other stuff. It still puzzles me – if photographer goes out on a long day of shooting, with tons of gear, doesn't he need to carry also some personal stuff? I need.
And now to the actual review.
In the two photos below you can see the "Compurover" front and back. It is pretty big backpack, made from top quality materials. It has a comfortable (at least for me) carrying system. During my trip I was walking for about 10 hours (!) a day with it on my back and feeling very comfortable. The waist belt is great – it is wide and well padded, so are shoulder straps. You can also remove the waist belt for drying/cleaning purposes.
Photographs by Greg Brave. Click on the photo to enlarge.
The bottom compartment is for photo gear. It is padded like any other photo bag, and you can also change its configuration to match your photo equipment. It was big enough for me. In this compartment I could carry the following equipment:
Body: Canon 40D
Lenses: Canon 24-70mm f2.8L, Canon 70-200mm f4L, Canon 100mm macro f2.8L, Canon EF-S 10-22mm f3.5-4.6
Flash: Canon 430EX
And there was still room left for one additional small lens such as Canon 28-105 f3.5-4.5
This compartment closes with a zipper and a security lock. When you open it, it slides out in an angle giving you a comfortable access to the equipment. One thing to notice – zipper is somewhat hard to zip/unzip at the corners.
Photographs by Greg Brave. Click on the photo to enlarge.
The tripod holder. When not in use it is folded upward (you can see it on the front view of the backpack above). When needed you unfold it downwards, and put a tripod in it as shown below. Lowepro's original idea was that you put your tripod under the bungee mesh and use two additional bungee cords (which come with the bag) to secure the tripod at the top and bottom. I found that to be too inconvenient, so what I did was to remove the two bungee cords from top and bottom ( you can't see them on any of my photos) and only on the top I put a Velcro strap. I put the tripod in the tripod holder without putting it under the bungee mesh, and secure it on the top with a Velcro strap. For me it was enough to securely carry my large tripod.
By the way if you have a small tripod, you can carry it on the side of the backpack putting its legs in the side mesh pocket and securing it with the side strap.
There is also a pretty spacious pocket, which I use to carry my polarizers as you can see on the photo below.
The downside to this tripod holder is that in order to access your photo gear you have to remove the tripod first.
Photographs by Greg Brave. Click on the photo to enlarge.
Additional pockets. "Compurover" has two small zipped pockets on the front, which I use to carry cleaning stuff, micro leatherman, and filters. Pretty convenient. It also has mesh pockets on both sides.
Laptop compartment. The access to the laptop compartment is from the side, so that you won't have to take out all your gear before getting to the laptop, which is especially convenient when you are passing airport security. But as you probably noticed, in my demands there was no need to carry a laptop. Actually the last thing I want with me on the outdoor hike is an additional 2-3 kilos of dead weight. Do you?
But here is my big breakthrough! I found this compartment to be very useful. Almost indispensable. I use it for my 3 liter hydration system! I put it inside, close the zipper almost all the way up and pull the hose from the top to the shoulder strap.
Photographs by Greg Brave. Click on the photo to enlarge.
Top compartment for other stuff. You can see it on the left photo below. Actually it is pretty spacious. Unfortunately I didn't show it in this photo. I could put quite a lot of stuff in this compartment such as rain coat, sandwiches, utility knife, and more. As you can see, inside the top compartment there is a zipped pocket and another divider. There is also a memory card holder there. You can see it in more detail in the photo on the right.
Photographs by Greg Brave. Click on the photo to enlarge.
In addition, with the bag comes this small pouch, which I found very convenient to carry spare batteries, cables and stuff.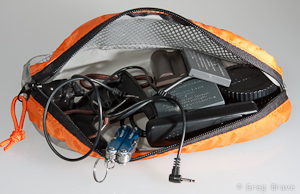 Photograph by Greg Brave. Click on the photo to enlarge.
The one thing that I didn't show in the photographs is the rain cover. It has its own pocket at the bottom of the bag.
Additional important little thing is that on the shoulder straps there are two plastic rings (one on each side). If I want to hike with my hands free (for trekking poles for example), but I also want my camera to be ready any minute, I hang it on these two plastic rings instead of hanging it on my neck. And when your camera is as heavy as mine it is very important.
Summary
Pros

Lowepro's "Compurover" is a good hiking photo backpack with good carrying system (wide and padded shoulder straps and waist belt). It has enough room for my photo equipment and it also has spacious compartment for other stuff. It has a tripod holder, and I can also carry about 2.5 liters of water in my hydration system in laptop compartment. This is especially good because I have all the top compartment for additional stuff. This backpack also has a sufficient amount of little pockets, and it has a rain cover.

Cons

The photo-gear compartment is a little difficult to open because zipper gets stuck a little bit on the corners. There is no quick access to the camera as I saw in other backpacks, so in order to get it out you will have to put down the backpack and open the photo-gear compartment. It is a big backpack, so if you want to go for a stroll in the park taking only your camera with one lens on it, this would be an overkill. If you carry a tripod then you would have to take it off the bag before being able to access your photo gear.
Conclusion
I am happy with this backpack, and most of the cons are not an issue for me. The only thing for me that is left to see is whether this backpack will hold through the years.
Comments are welcome as always, and if you find this review useful I would also like to hear about it.
Till the next time,
Take care!
Greg.