During our vacation in Prague me and Ira also visited a small town near Prague named Kutná Hora. At first I didn't think of writing second chapter about my trip, but when I finally had time to browse through my photos from that town, I saw that I had a few very nice photos from there (if I won't compliment myself on my photographs, then who will ? 🙂 ), so I decided to write a short post on our day in that sweet little town.
Kutna Hora is about an hour train ride from Prague, and if you, like me, don't like organized trips, you can just buy a train ticket in Prague and visit it by yourself. The old town centre is about 20 minutes walk from the train station, and I think there is even a bus going from the station to town. Anyway we didn't use any kind of transportation but our feet.

Alley leading to St. Barbara Church. Photograph by Greg Brave. Click on the photo to enlarge.
There are quite a few tourist attractions in Kutna Hora, such as St. Barbara Church, which is one of the most famous Gothic churches in central Europe. It is also a UNESCO world heritage site. By the way St. Barbara is the patron saint of miners, and this town was mostly based on silver mines in the past. Another attraction of the town is the Sedlec Ossuary. It is a small Roman Catholic chapel. Its' main feature is that inside it is artistically "decorated" by many real human bones. It is estimated to contain the skeletons of between 40,000 to 70,000 people.
In addition it is pure pleasure just to walk the streets of the old town centre in Kutna Hora. This is what we did the most – just walking on the narrow streets between old buildings and taking photos, of course! When we got there it was rainy-misty weather. It was pretty dark for photographing, but I had my tripod with me, and all the photos that you see here were shot from tripod. Yes, even the dog in the last photograph!
St. Barbara Church Photograph by Greg Brave. Click on the photo to enlarge.
Actually I was surprised that I could use my tripod just about anywhere. Nobody told me that I couldn't, which was strange because I am used from other places in Europe (Greece for example) that in most touristy places they don't let you use the tripod. Shooting in mist I tried to convey this darkish and melancholic atmosphere. But it was not the case with these rose hips. Here I aimed at showing the "freshness" of the branch and the "coolness" of the air. I was captivated by the color of the hips!
Rose hips in the rain. Photograph by Greg Brave. Click on the photo to enlarge.
When photographing tourist attractions such as Sedlec Ossuary (which you can see below), I wanted my photos to be different from what most tourist were shooting (which is just straight-forward showing of what eye sees). So I tried to include elements that would add mood, which in my opinion was appropriate. In case of the Ossuary I went around it several times until I found this spot where the tree branches looked like they were reaching towards the building and blending nicely into the seamless gray sky.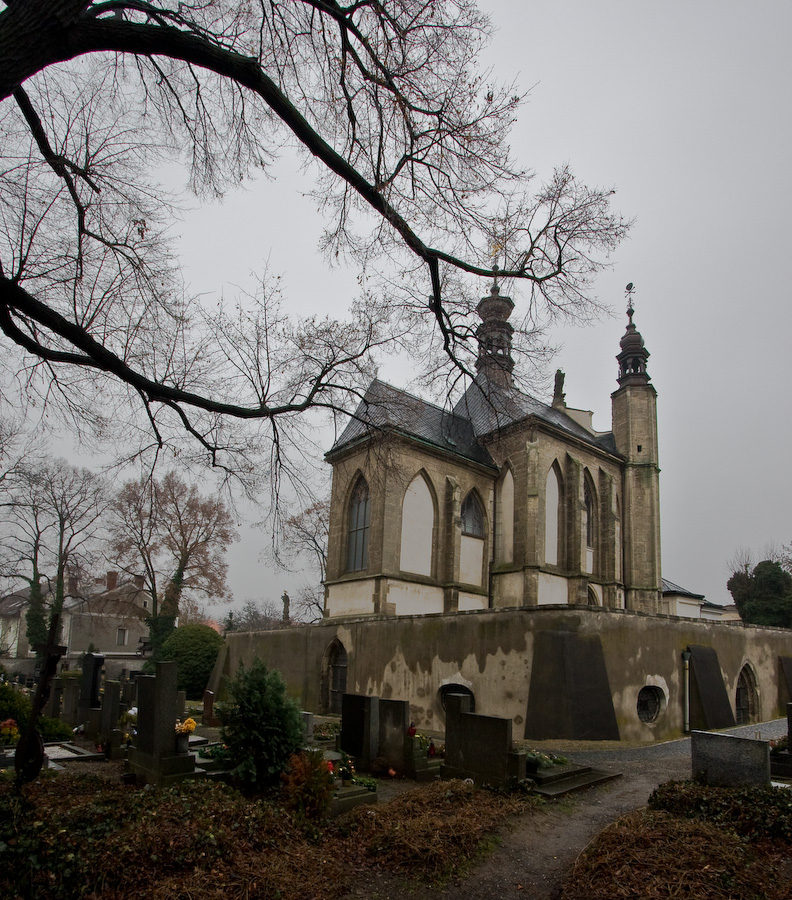 Sedlec Ossuary. Photograph by Greg Brave. Click on the photo to enlarge.
During our visit, there were not many people on the streets. Here and there we met tourists, but I was looking for local people to "put" in my frame, to make my photos more authentic. In the left photo below I succeeded, while in the right one I waited and waited for someone to pass by, but with no luck, and finally shot the scene without anyone. It is a shame, I would really like to have there a person or two.
Kutna Hora old town streets. Photographs by Greg Brave. Click on the photo to enlarge.
On our way back to the train station, we were walking on a narrow sidewalk when I spotted this dog watching us from behind a window. Even though we had little time left till the train I couldn't just pass by this photo opportunity. The thing is that it was getting dark already, and even high ISO wouldn't help me out here. So even for this shot I had to take out my tripod. The doggy was watching intensely all my actions and at some point I thought, that's it now it will start barking… but everything was just fine – I took a few shots and we took off to catch our train.
I hope you liked the photographs, and as always – comments and critiques are welcome!
The Doggy 🙂 . Photograph by Greg Brave. Click on the photo to enlarge.