Before reading this interview I suggest reading my Introduction to Interviews with Photographers.
Ilia was born in Uzbekistan. When he was thirteen he moved to Israel with his parents. Ilia's affair with Mother Nature started when he was a young boy and continues to this day. The breakthrough in his photography happened in the year of 2000 when he bought his first digital camera, and since then you can find Ilia's photographs in many books and leading magazines such as National Geographic, Practical Photography, The Guardian, Daily Mail, Telegraph and many more.
Ilia also specializes in bird photography and has a large collection of magnificent birds photographs.
Ilia kindly agreed to this interview and made time in his busy schedule to answer my questions.
Please welcome Nature, Bird, and Wildlife photographer Ilia Shalamaev!
Click on the photo to enlarge.
How do you choose the locations to shoot your beautiful landscape images? I mean how do you know that from a certain location you'll get a great image?
Choosing the right location is the most difficult part of the job. I try to look for right places before I actually bring the gear to the field. Second thing is to decide in what season and hour of the day the subject will look in its best. What left is to wait for the right moment to give it a shot.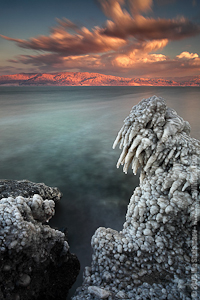 Photo by Ilia Shalamaev. Click on the photo to enlarge.
The colors in your landscapes are absolutely magnificent. Is this due to post processing enhancements, good lenses, or just perfectly chosen weather conditions and time of the day?
Most of my landscapes I take in the magic light of sunrises or sunsets, the harsh light of midday, especially in our region leaves no chance for a decent image. In addition, the right use of polarizer and set of ND Grads (Neutral Density Graduated filters) really enhances the color saturation and dynamic range of the images I take.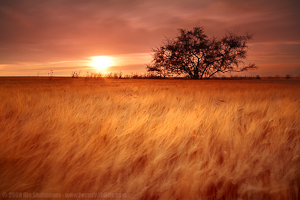 Photo by Ilia Shalamaev. Click on the photo to enlarge.
I understand that in order to get some of your beautiful images you had to hike quite a distance outdoors. Could you share some of your tips regarding hiking with photographic equipment in the nature?
There are some must things for traveling in the wilderness: Good hiking boots, pro backpack for the gear, light tripod, a lot of water and a light thermal jacket with you. The backpack should be very comfortable and protected from rain. As to photo gear, try to take with you the minimum you need. Usually on a hike I don't take more than two lenses with me .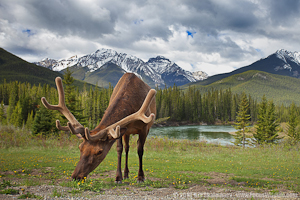 Photo by Ilia Shalamaev. Click on the photo to enlarge.
In your image "The Charm of Light" you managed to beautifully capture sun rays spilling over the waterfall.  How did you do it ?
In that case most of the credit should go to Mother Nature. Rays of sunshine on that warm morning melted the last remaining snow and filled the air with mist that joined millions tiny droplets of water, created by the 60 meters high waterfall.  All these combined created this celebration of nature.
The gear I used for this shot is canon 5D,  canon 17-40mm f/4 lens, 2 stops soft ND-Grad, tripod.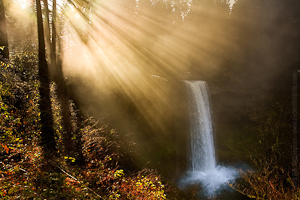 "The Charm of Light". Photo by Ilia Shalamaev. Click on the photo to enlarge.
You are also a professional bird photographer, having a wonderful collection of high quality images.
What are the most important aspects of bird photography?
It is a bit difficult for me to pick just one so I will mention two of them:
a. Patience – you will need a lot of it, in order to success in this field of photography. Sitting for hours in a tiny hideout with 45 degrees Celsius inside, without moving or making a noise, is just one example of bird photographer's reality.
b. Knowing your subject. Bird photographer should understand his subject and in many cases predict its behavior, in order to get intimate images of it.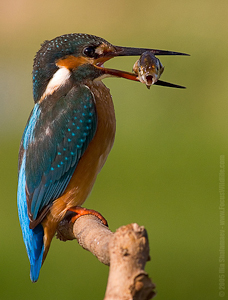 Photo by Ilia Shalamaev. Click on the photo to enlarge.
I assume that technically to be able to create such shots you have to use some professional equipment. What equipment do you use specifically for your bird photography?
I use Canon gear. Canon 5dMKII body and canon 500mm f/4 IS L lens, Gitzo basalt fiber tripod.  Occasionally canon EX 580 flash.
Photo by Ilia Shalamaev. Click on the photo to enlarge.
What photographic equipment do you use for everything else?
For my landscape photography I use the same
5D MKII body
Canon 17-40mm f/4 L lens
Canon 70-200mm f/4 L lens
Sigma 15mm f/2.8 Fisheye lens
BW, Marumy, Singh-Ray, Cokin, Hightech filters (polarizer, ND, ND-Grads)
Slick Carbon fiber tripod with RRS ball head and L plate
There is no other camera body on the market that can compete with output quality of the 5D MKII in even close to its price range, due to 5D's full frame, high resolution sensor and its reasonable price. So it's obvious that this body is an ultimate tool for landscape photographer. Many will say that its focus system is not match for Nikon D700 FF camera and will be perfectly right, but I don't even use automatic focus when shooting landscapes, so it's not an issue for me.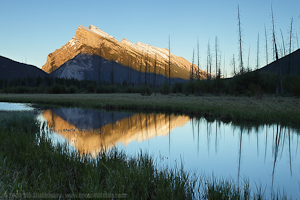 Photo by Ilia Shalamaev. Click on the photo to enlarge.
You also conduct nature photography workshops in Israel. Tell us about your workshops. How can people sign up for your workshops?
I give master classes of landscapes and birds photography, mostly in association with "Galitz" school of photography. Next start date, for 5 meetings Landscapes photography workshop, is in 26 of September 2010.
It has become my tradition to ask this question – if you had only two advices to give to a beginning photographer, what would they be?
1. Watch and understand your subjects before thinking about taking pictures.
2. Do not choose the easiest target – find one that not many have photographed. Better choose subject that you have repeated access to, and concentrate on it. Eventually you will obtain the pictures you first imagined.
Photo by Ilia Shalamaev. Click on the photo to enlarge.
Ilia, thank you very much for your time, effort and knowledge, and keep up the great job that you are doing!
You can see more of Ilia's work on his