Cape Schanck is the southernmost tip of the Mornington Peninsula and separates the wild ocean waters of Bass Strait from the slightly calmer waters of Western Port. Its most recognizable symbol is the Cape Schanck Lighthouse, which was built in 1859 and was the second lighthouse built in Victoria. A prominent rock outcrop is Pulpit Rock. It stands out at the very tip of the cape.
The first time I went there was on weekend mid-day, and my biggest problem photography-wise was the strong straight sunlight, which made the shadows very dark and deep. On the photo below you can see the shadows I'm talking about. The good part was the colors being very vibrant. The rock on the upper right is the Pulpit Rock.
Click on the photo to enlarge.
At my first visit there I decided that I have to visit the place on sunset and see what can I make out of it, so a few days later I drove there after work (it is a 40 minutes drive from where I live), but the sunset wasn't that good. It was very cloudy, sunlight could barely be seen, and I started thinking that I won't be able to create even a single good photo, but I was patient and decided to stay there and walk around even after the sun fell completely below the horizon, and suddenly the sky started to clear and I was able to catch the photo below.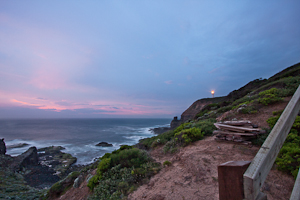 Click on the photo to enlarge.
On the right you can see the Cape Shanck lighthouse. So this was a good experience for me, as I saw that when shooting at sunset, patience is a good practice because even quite some time after the sunset it is still possible to capture the beautiful remaining light.
As always your comments are welcome, and
Remember, you only have to enter your name to leave a comment!
Greg.